Get Involved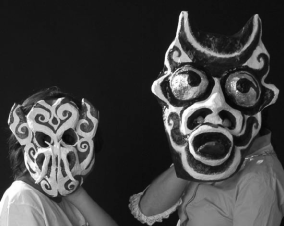 Mask Making and Performance Class: What if you changed your face?
7:30pm, Thursday Evenings (5 Sessions), starting October 8th, 2009
Call: 503-823-2840 (Class# 305112)
Luciana Prono, a world renowned Peruvian performer who creates and uses masks in her performances is presenting a class for youth ages 13 to 17 involving self portrayal with mask making and use of performance techniques to explore the multiple heritages of participants.
New Support Group: To bring together families and individuals whose genetics and cultures comprise the spectrum of human existence, and whose variation of their features (phenotypes) within their families, may come with special concerns, needs and issues within our society. (based at Pennylvania State College)
"Culture Starts at Home", Our Fundraising Program: A food and arts series designed for the benefit of the MHFRC, is based on the idea that the development of a connected community stems from friendship and identifying common interests. Sharing a meal will provide us with an opportunity to relax together and create intimate bonds that lead to deeper understandings of the interests of individuals and families with multiple ethnicities.
"Dance Around the World", next event in 2011.